Domain Forwarding
Domain Forwarding (also known as Website or URL Forwarding) allows you to point your domain to a URL you specify. Use the Masked/Not masked feature to determine whether or not the destination URL will be displayed in the browser address line.
Email Forwarding
Redirect email addressed to your domain to an existing email address you already use. The forwarded mail is filtered for spam. Create up to 10 email forwards.
ICANN Fee
On May 17, 2004, Internet Corporation for Assigned Names and Numbers (ICANN) introduced a mandatory fee for some top-level domains (TLDs). We include this fee in the price of the domain.
Domain Locking
Domain Locking is a security feature that prevents unauthorized domain transfers. If a domain is locked, transfers cannot be made until the domain is unlocked.
Premium DNS Services
With Premium DNS Services, you have control of your domain's zone records (A/CNAME/MX/TXT). Furthermore, you have guaranteed uptime and increased website performance due to the geographically distributed name servers.
Customizable Subdomains
Create an unlimited number of subdomains (e.g., shop.yourdomain.com) and point them to any IP address you specify. Wildcard (*) entry is supported.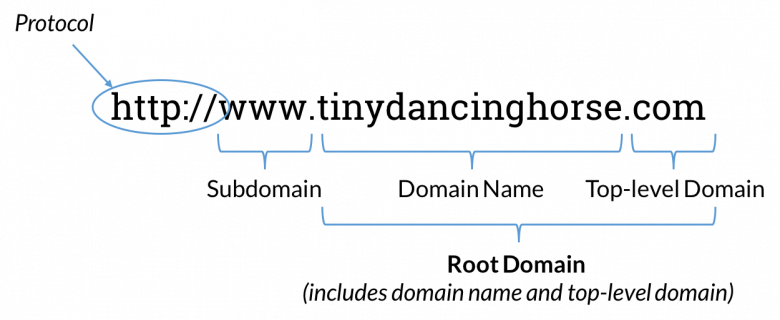 Elements of a Domain. Moz, https://moz.com/learn/seo/domain.
Flexible Autorenewals
You have the ability to turn autorenewals on or off for each of your domains.
DNSSEC Support
Configure DNSSEC on your domains. Please note: your DNSSEC provider supplies the DNSSEC values that you enter for your domains.
Custom Name Servers
Create vanity name servers based on your domain. Please note: the IP address for each name server is provided by your web host.